Support through Corporate Sponsorships and Corporate Circles of Giving enables Omaha Performing Arts to present world-class artists and Education and Community Engagement programs.
Corporate Sponsorships
Corporate Sponsorship opportunities are available for single performances or an entire series, which include Dance, Family, Jazz, Showcase, and National Geographic Live!, as well as Jazz on the Green at Midtown Crossing, 1200 Club, and Education and Community Engagement Programs.
In addition to brand exposure, Corporate Sponsorships come with a variety of hospitality benefits that may include:
Tickets and parking passes for the sponsored performances
Passes to donor lounges
Concierge ticketing service
Ticket discounts for company employees
Industry-exclusivity
Corporate Circles of Giving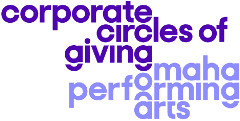 LEVEL
BENEFITS
Corporate Contributor
$300 +




Email notification of priority ticket purchase periods
Name listed in Omaha Performing Arts' program books
Name listed on Omaha Performing Arts' Corporate Giving website page
Invitation to Quarterly Corporate Roundtable Discussions

Corporate Supporter
$600 +

Ticket discounts for company employees (up to 15%, when available) on Omaha Performing Arts' Presents Series

Corporate Sustainer
$1,500 +

One single-occasion pass to donor lounges

Corporate Associate
$3,000 +

One complimentary parking pass to an Omaha Performing Arts' performance
Complimentary use of rental space in the Holland Performing Arts Center to host a private corporate event (not including performance spaces; company to cover reception costs)
*All levels yield unrelated benefits from lower levels

For more information about Corporate Sponsorships or Corporate Circles of Giving, please call Alyssa Kohler, Associate Director of Development, Corporate and Foundation, at 402.661.8452.