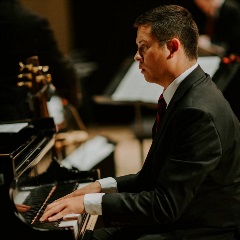 Christopher Leach is a trombonist, pianist, and educator based in Lincoln, NE. He has travelled the country and world playing at venues and festivals large and small, and performing educational jazz clinics at both the high school and college level.
Chris has shared the stage with notable jazz musicians such as Ernie Watts, Scott Whitfield, Bobby Shew, Bijon Watson, Kris Berg, Mary Fettig, Matt Niess, Reggie Thomas, Michael Dease, and Robert Irvine III. He has also performed with artists such as Johnny Mathis, Wayne Newton, and other national acts.

Chris received his education from Southern Illinois University - Edwardsville (B.S.), Northern Illinois University (M.M.) and is currently a doctoral candidate at the University of Nebraska - Lincoln (D.M.A.). Chris is currently Instructor of Jazz Piano at University of Nebraska - Omaha where he directs the Jazz II Big Band, teaches Jazz Combo and Masterclass, and teaches private applied lessons.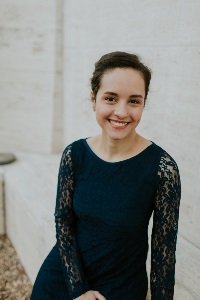 Native of Argentina, Florencia Zuloaga is a versatile performer with over a decade of professional performing and teaching experience. She has appeared as a soloist, alongside chamber groups, and with orchestras in her native country and in the United States. An enthusiastic explorer of diversity through concert programming, Florencia made recent performances of repertoire written by Argentinean women composers, including the 2020 USA premiere of the Piano Sonata by Lita Spena, as well as in events such as the National Conference of Keyboard Pedagogy (USA, 2021) and the Segundo Congreso Internacional de Piano (Argentina, 2014).
Florencia is currently pursuing a Doctorate in Musical Arts at the University of Nebraska Lincoln with an emphasis on Piano Performance and with the guidance of pianist Paul Barnes. At the Glenn Korff School of Music, Florencia serves as a Graduate Teaching Assistant, Othmer Fellow, and was recently selected as the 2020/2021 Glenn Korff Distinguished Artist and Scholar. Florencia completed a Masters in Piano Performance in the University of Arkansas, where she studied with acclaimed pianist Jura Margulis, and a Graduate Certificate under the guidance of Dr. Tomoko Kashiwagi. While studying in Arkansas, she served as Graduate Teaching Assistant and was awarded the Carolyn Hickson 2019 Piano Scholarship. Additionally, she received the First Prize in the 2018 Concerto Competition, performing Maurice Ravel's Piano "Concerto in G" with the Arkansas Philharmonic Orchestra. Florencia was also finalist for the 2019 edition of Northwest Arkansas "Artist 360" program. As a member of the Jazz Combo at the University of Arkansas, she toured across the state and performed at the 2019 Network Jazz Conference in Reno, Nevada.
Being a laureate in multiple piano competitions in her home country, Florencia has performed extensively in Argentina. Some of her accolades include first prizes from the Asociación Argentina de Pianistas Pedagogos (member of the European Piano Teachers Association), Temporada Alegretto and Buenos Aires City's Youth Orchestras. Her orchestral debut in 2012 featured a performance of Mozart's Piano Concerto No. 9 with the Amadeus Radio Orchestra in Buenos Aires. Florencia graduated with honors from the Manuel de Falla Music Conservatory in Buenos Aires and holds a Bachelor of Music in Piano Performance from the National University of Arts. Her piano teachers include Marcela Fiorillo, Eduardo Páez, and Alfredo Corral.